Description
Electrical Vehicle Charging Course
The award gives the learner an understanding of the application of the IET Code of Practice for Electric Vehicle Charging Equipment Installation. It provides a facility for individuals working in the electrotechnical sector to develop their understanding of the installation of electric vehicle (EV) charging points.
Who is it for?
This is for electricians (and designers) who wish to gain an understanding of the requirements for electric vehicle charging equipment installations. The Electrical Vehicle market is booming and those electricians that want to be a part of this market to roll them out needs to complete this course before doing so. Year on year, these charging dock locations are in increasing and you could be a part of this expansion.
Duration
1 Day (+ 1 Day for Exam)
Assessment
1 Multi-Choice Assessment
Entry Requirements
Learners must be at least 18 years old. Learners must be conversant with the relevant wiring regulations, and initial verification and commissioning. This can be demonstrated by the learner holding relevant qualifications in 18th Edition Wiring Regulations (BS 7671), and Inspection and Testing. Learners must have the minimum levels of literacy and numeracy to complete the learning outcomes and assessments.
Candidate who enrol on the Electrical Vehicle Charging Course will:
Candidates will be able to inspect and test to validate electrical vehicle charging docks and certificate its usage.
At the end of the course you may wish to carry on your studies by discussing with your course manager what options you have. You will have the option to pay an extra fee to upgrade to another course package.
You can check here for our Individual or Package Courses if you wish to observe other opportunities.
Qualification:
Level 3 Award in the Requirements for the Installation of Electric Vehicle Charging Points
Why LTS?
LTS is an ambitious training centre that inspires to lead in its field.
We have a team of trainers who have been in this industry for years and instilled with great passion for what they do. LTS aspires to raise the future generations of electricians and give them the experience, skill set and qualifications to be successful in their industry.
Our trainers have years of experience in this industry teaching with passion and have exceptional pass rate records to help you get the qualifications you desire.
The Electrical Courses on offer are tailored to the needs of students and what our trainers believe is crucial to get you the accreditation you seek.
LTS is designed to cater to the needs of its students and help them succeed by giving them the flexibility to do so.
Available Dates
Weekdays – Wednesday – 12:30pm to 4:30pm & Thursday to Friday – 8:30am to 4:30pm:
Books
You will be expected to have your own copy of this book when attending our PAT Testing course
IET – Code of Practice for In-service Inspection and Testing of Electrical Equipment 5th Edition (ISBN 9781785619663)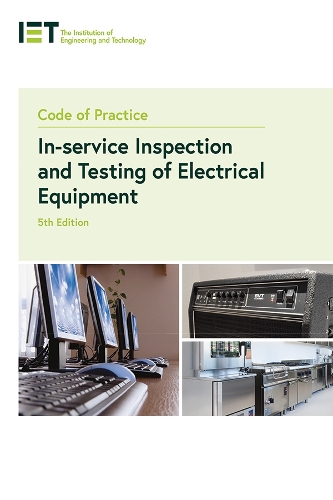 Funding
We provide 0% interest monthly payments with Splitit! Just click on the Splitit option at the bottom of the Checkout page when making payment, to be able to split payments up to 12 months. NO CREDIT CHECKS!
If you are having difficulty funding this course, you may want to visit the Government's website for Grants and Bursaries for Adult Learners at https://www.gov.uk/grant-bursary-adult-learners.
Alternatively, you can also contact us on 01992 413503 or email info@learntradeskills.co.uk for further queries.
Electrical Vehicle Charging Course
Special thank you for Sezai for teaching with all the care like teaching his own kids to us. Learning here is made me feel like I am part of their family.... read more I have passed my 18th Edition exam here and realised Sezai got more happy then I did. Special thank you again to Sezai and Tolga for all their care and support. I would highly recommend to anyone from my heart to learn with Learn Trade Skills. 🙏🙏🙏👌

Emin Olcay


August 29, 2021

Positive: Professionalism Thank you to Sezai and Tolga for a great experience, learn trade skills was a great place to get your qualifications at a reasonable price, both were... read more very professional. I am very grateful for the time I spent Studying there.

Kieran Sweeney


August 29, 2021

Positive: Communication , Professionalism , Quality , Value These guys are great! really nice people. Very knowledgeable and run great courses at a great price... read more point. cant recommend highly enough. Will carry on using to upgrade my skills and our employees. KETOS Security

Alberto Rossetti


September 8, 2021

Positive: Communication , Quality Knowledgeable and very keen to answer questions and loads of hands on experience with the tutor

Max Wheeler


July 29, 2021

Positive: Communication , Professionalism , Value My partner used this company and found them helpful and supportive...passed his exams really quickly...

cathy henry


April 29, 2021

Positive: Professionalism , Quality , Value Really pleased with the quality and value from the team at LTS. I was really happy to pass my exams first... read more time, which is down to the valuable training and dedication. Would highly recommend!

Paul Mainstone


August 29, 2021

Just done my Initial Verification and Periodic testing combined course and couldn't be happier with how it went. The Trainers/Teachers are very knowledgeable and experienced in the electrical field that... read more I require to progress in my career. Any future courses I need I will book through Learn Trade Skills as I know I'll get the training I need.

John Wynne


August 29, 2021

Positive: Communication , Professionalism , Quality , Value Family run business!!! These guys go the extra mile to help u to build your future.

Steven Henry


April 29, 2021

Positive: Professionalism , Quality , Value Learn Trade Skills offer a fantastic service for a reasonable cost. Both Tolga and Sezai conduct themselves with the upmost professionalism... read more and are extremely helpful to all students. Would recommend to anyone who require trade skills and i will definitely be returning.

will moore


July 29, 2021